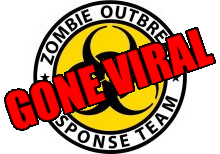 Zombies. Everything you've heard is true, and we had an outbreak here recently. I managed to find a cure but while treating our patients I got bitten!
The cure is in my lab but I can't work out the security codes – I can't think straight, everything's turning red and I smell blood… I think I only have an hour before I turn…
Can you help me?
Don't come here, I might infect you… Get a team together and I'll set up an online conference so you can log in from home and guide me through the security system on live video.
You're my only hope!

This game is live! From the safety and comfort of your own home, via Zoom video conference, you will tell the researcher what to look at and which codes to enter. Family friendly, minimum age 10, with unlimited hints, in English or Dutch. Teams can log in on separate devices (phone or computer) or share. Book Now for teams of 2-6, or contact us for the options for more players or for multiple families.
REVIEWS

First virtual escape game
Me and my partner have never played a virtual escape game online before and as he is a lover of zombie outbreaks we picked to play "gone viral" for our first game. It's safe to say we will definitely be continuing to play escape games online! The host Toby was awesome, couldn't have been better. The game was fun and very immersive. Considering we've played over 30 normal escape rooms, there were locks and puzzles we had never come across before and it was brilliant! The game flowed perfectly and we honestly have nothing but good things to say about the game and the host, he went above and beyond to ensure we enjoyed the game from start to finish. Absolutely fantastic, loved every minute and worth every penny!! We escaped with 1 minute 17 seconds spare!
MISSBLUEBERRIEXX – Apr 2020

Brilliant hour with Zombie Toby
Toby was helpful from the get go. We wanted to play a game with two families with kids (youngest 10) but something that was also challenging for the adults. Plus he also had to cope with two languages (Dutch and English).
Gone viral was brilliant. We didn't really know what to expect but The effort Toby put in before and throughout the whole thing was above and beyond. He stayed in character the whole time and the setup and clues were well thought out.
It worked super well bringing the two families (Scott's and Dutchies) together.
We had a fab evening. Lots of screaming & laughing. Will definitely do it again. We are hooked!!!
LTFMPOSSEE – Apr 2020